'Act Out a Scene ' is a competition that entails contestants to pick a scene out of a book and act it in a one minute video. It is a competition with a new concept to encourage readers to read more and also to express their acting skills. It is open to contestants from all countries of Africa. The competition opens on August 15th, 2023 and ends September 30th, 2023. The judges will pick the best and the winner will be announced on October 14th, 2023.
Post your entry on your page and tag Getlitnaija as collaborator.
Do not use the video from another competition for this same competition.
Submit a one minute video, acting out a scene from a book.
Quote and tag the author of the book you are acting a scene from.
The video must be your original content.
The video must not contain any offensive or malicious words.
Sound, instrumental or music background is not allowed to complement your delivery.
Your entry can either be a monologue or dialogue.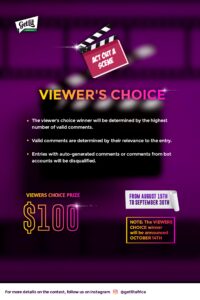 Viewer's Choice Rules
The viewer's choice winner will be determined by the highest number of valid comments.
Valid comments are determined by their relevance to the entry.
Entries with auto-generated comments or comments from bot accounts will be disqualified.
Competition runs from August 15th – October 30th.